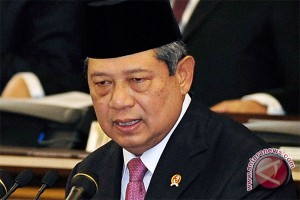 President Susilo Bambang Yudhoyono.
Jakarta (ANTARA News) - President Susilo Bambang Yudhoyono has said the Constitution belongs to the people as the highest mandate holder, and not to certain political groups.
Therefore, changing the constitution in the interest of a certain political group was unacceptable, the head of state said in his remarks at the commemoration of Constitution Day at the Parliament Building here on Thursday.
Any amendment to the constitution must be done based on thorough considerations and with a clear mind, he said.
"It`s not good to frequently change the Constitution," Yudhoyono said.
The Constitution should not be changed just to serve the interest of a certain political elite, nor should any such constitution amendment be passed through a majority of votes, he said.
Yudhoyono said all parties at present must focus on implementing the mandate of the Constitution properly, including in carrying out the deliberation principle in every decision making process.
He believed that voting was not the best solution especially for issues affecting the people`s interests.
The Indonesian Constitution, UUD 1945, has so far been revised four times, namely in 1999, 2000, 2001, and 2002.
Also present at the Constitution Day function were First Lady Ani Yudhoyono, Vice President Boediono and his spouse, Herawati Boediono.
A number of ministers, legislators and other top officials of the government also attended the event.
From the Parliament building, the president returned to the presidential palace, where he was scheduled to receive the selection team of the Corruption Eradication Commission`s would-be leadership members.