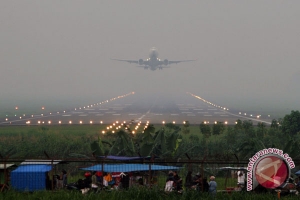 Smoke blanked the airport
Muara Taweh, C Kalimantan (ANTARA News) - A Susi Air plane failed to land at Beringin Muara Teweh Airport in North Barito district, Central Kalimantan, as thick smoke blanketed the area on Thursday.
The plane which was supposed to arrive at the airport at 10 a.m. from Banjarmasin, South Kalimantan, was forced to divert its flight to Sepinggan Airport in Balikpapan, East Kalimantan, an ANTARA journalist in Muara Taweh observed.
The Cessna plane had flown around the airport six times for 20 minutes before its pilot diverted the flight to Balikpapan.
"As thick smoke blanketed the airport the pilot decided to divert the flight to Balikpapan," spokesman of Beringin Muara Teweh Airport Sidik said.
The thick smoke reduced visibility to 500 meters in the morning with a vertical visibility of 800 feet, he said.
A number of passengers at the Beringin Muara Teweh airport said they were disappointed at the incident. They preferred to wait at the airport until the weather returned to normal. However, by 11.30 a.m. thick smoke still covered the town.
The thick smoke also forced a Pelita Air plane which was supposed to take off from Syamsuddin Noor Airport in Banjarmasin at 10.00 to postpone its departure to Muara Teweh.
"The flights are not closed. They will be resumed until the weather returns to normal in the evening," he said.
Head of the Muara Teweh Natural Resources Conservation Office (KSDA)Yusuf Trismanto said slash-and-burn practices to make way for farm land was to blame for the thick smoke blanketing the town over the past few days. (S012)